The Issues
Protect Patient Access to Healthcare
Patients across Arkansas deserve superior anesthesia care. Certified Registered Nurse Anesthetists (CRNAs) make that possible. VOTE YES on HB1198 and VOTE NO on SB199.
"Keeping your hometown healthy" is more than a state slogan. For CRNAs, it's a call to action. CRNAs expertly care for the whole patient, not just their condition, and make patient care more affordable and accessible.
Tell your legislators TODAY that CRNAs are high-need healthcare providers, particularly in rural Arkansas. Removing barriers to their practice, such as physician supervision, will help hospitals and other critical care facilities maximize their workforce and increase access to safe, affordable care for patients. Rural hospitals are essential to Arkansas' economy and rely on CRNAs for anesthesia care.
5 Things You Need to Know
There are 800 practicing CRNAs in Arkansas, serving and caring for critically ill patients in emergency rooms and intensive care units, as well as providing expert anesthesia care.
CRNAs are the main providers of anesthesia in rural Arkansas, serving in more than 90% of hospitals and other facilities.
There are 41 U.S. states that do not require physician supervision of CRNAs in their nursing laws and rules. CRNAs are qualified to make independent judgments regarding all aspects of anesthesia care based on their education, licensure, and certification.
Leading health policy journals have demonstrated CRNAs' safety record and found no evidence that physician anesthesiologists provide better anesthesia care.
Nurse anesthetists have been safely providing anesthesia in the U.S. for more than 150 years.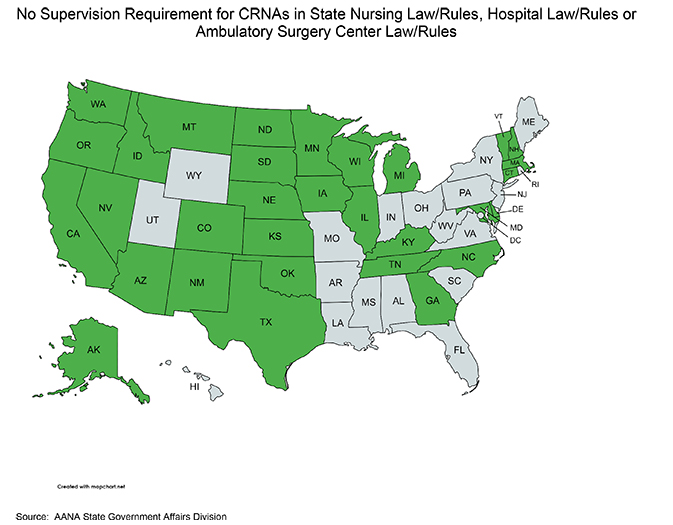 Supervision Requirements
In 31 states, there is no Supervision Requirement for CRNAs in State Nursing Law/Rules, Hospital Law/Rules, or Ambulatory Surgery Center Law/Rules.
In 43 states, the nursing laws/rules do not require physician supervision of CRNAs.
Essential Access to Anesthesia Care
Research shows that CRNAs are the most cost-effective anesthesia providers, and that there is no difference in safety between CRNAs and anesthesiologists. CRNAs provide essential access to anesthesia care, especially in rural and other medically underserved areas in Arkansas and the rest of the United States.
Support the ability of CRNAs to provide high quality, cost-effective care to this state's patients without unnecessary restrictions.